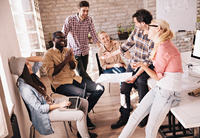 Medical and health services are highly professional; choosing the right provider with expertise and compassion is never easy.
With the popularity of internet and smartphone, clients become heavily rely on online information to find their ideal health professionals and institutions. Therefore, 'web-presence' of a medical service is of growing importance.
Joyworks helps our clients to establish their self-media, optimize search engine SEO, and connect them with public media. Accompanied with on-site training for product/service delivery, we enable our clients to expand their treatment options and acquire customers.
Joyworks Medical Technology Co., Ltd.
11F., No. 37, Sec. 3, Minquan E. Rd., Zhongshan Dist., Taipei 104 , Taiwan R.O.C.